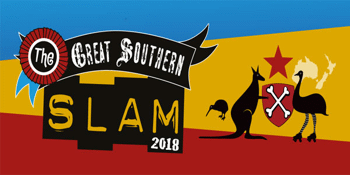 Adelaide Roller Derby presents
The Great Southern Slam
Adelaide Showground (Wayville, SA)
Saturday, 9 June 2018 8:30 AM
The Great Southern Slam
Saturday June 9th - Monday June 11 2018


The Great Southern Slam is back in 2018 to cement itself as the largest roller derby tournament in the world! For three whole days, June 09-11 2018, roller derby teams will converge on Adelaide Showground from every corner of Australia and New Zealand to do battle with skate and booty. Some will come intent on glory, others to test their mettle but, all will come to revel in the biggest celebration of hard hitting knocks and derby love this nation has ever seen.

There will be 48 teams, competing in approximately 80 roller derby bouts over three days on five tracks! That's HUGE! And it doesn't even include the Challenge Bouts!

It's the world's biggest roller derby tournament and your ticket will also gain you entry to our big weekend finale, the TGSS 2018 Hoedown After-Party! Held onsite at TGSS, the after party will be held on Monday 11 June after the Division 1 Grand Final and will feature special guest DJs, food trucks and plenty of fun!